Co-Founder Shitoryu Karate Canada & Technical Direcor of Shitoryu Karate Quebec
Shihan Claude Larouche started karate in 1971. He trained with the great masters of the 70', such as Mr. André Bisson, a student of Mr. André Langelier and Mr. Georges Sylvain who are in direct lineage of Mr. Tsuruoka in Toronto, Canada's first Karate pioneer.
Shihan Larouche pursued his karate training while fulfilling his thriving career as an athlete, a coach and an organizer. His brought karate into the limelight successfully in the Outaouais region and the Province of Quebec as well as Canada, and raised karate into the international level.
His main achievements are as followed:
An Accomplished Athlete
1972 to 1982: Competed in more than 125 karate Championships in Canada, Unites States, Mexico, Greece and other countries in Europe.
1977 to 1982: Seated amongst the top 10 competitors in Canada by the Black-Belt Magazine
1978: Winner of the Mérite sportif québécois award for best karate athlete in the province of Quebec (Fédération Québécoise de Karaté)
1979: Winner of the Athlete's Award of Excellence by the city of Gatineau
Karate Embassador
1986 to 1998: Organized karate championships, shows, seminars at the national and international levels. Gained a reputation of Major Events Governor in 1995. Received Ambassador's Club from the city of Gatineau.
2009 : Awarded the title of Meritorious Citizen by the City of Gatineau, for his involvement in sports for Gatineau citizens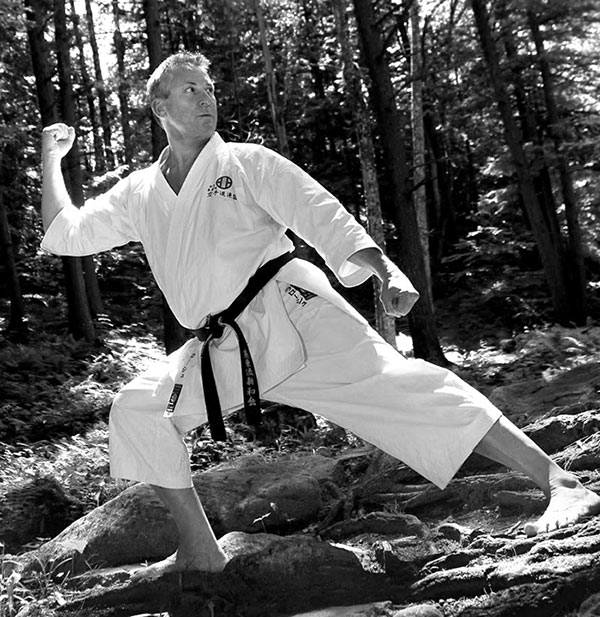 A Coach and and Inspiring Motivator
1990 to 1994: Kumite Coach for World Kobudo Federation competitions.
2011 to present: Kata Coach for Karaté Quebec
Shihan Larouche trained his athletes to win in the following events:
1990: Bronze and Silver medals, Venise, Italie WAKO
1991: Bronze Medal medal, London, England
1992: Winner against Team Europe (Charlesville-Mezières, France)
1994: Winner against Team Norway (Palais des Congrès de Hull)
Shihan Larouche's pupils competed in various international championships in Trinidad and Tobago, Curacao, Unites States, Argentina, Mexico, Germany, France, Malaysia, Chile, Brazil, Venezuela, Salvador and Dominican Republic. Kristel Larouche, under Shihan Larouche's coaching, has also performed during the University World Championships in 2005.
The Do, Before Everything
In 1993, Sensei Claude Larouche decided to go back to the origins of karate, with a big challenge – changing karate style. He could choose from the four World Karate Federation approved styles; Shotikan, Goju-Ryu, Wado-Ryu and Shito-Ryu. His main objective was to find a style to which he and his students could adapt, while also being recognized nationally and internationally.
After numerous training sessions, trips and sound reflection, he opted for the Mabuni-Ha Shito-Ryu, which did not exist in the Outaouais region. With this style, Shihan Larouche and his students saw opportunities opening to the world level of karate and still reap the benefits on a daily basis.
In1993, Shihan Larouche became a partner of Shihan Antonius Lo, 7th Dan, who was the president of Shinwa-Kai Canada located in Toronto, a traditional Shito-Ryu organization.
In May 1999, during his travels to Osaka, Japan, he was granted the title of 4th Dan in the traditional Shito-Ryu from the hands of Soke Ken-ei Mabuni, 10th Dan and a son of the Shito-Ryu's Karate-Do founder.
Since September 1999, The students of Shihan Larouche have been omnipresent in the Karate Quebec competitive circuit. Many of his athletes were selected for Canadian, Pan-American and World Championships.
Certifications
Before Shito-Ryu
1976: Received Shodan from M. Pierre Myre of the Chito-Kan System
1978: Received Shodan from M. Bill Zahopoulos Okinawaté-Karaté-Do (Greece)
1979: Opened own Dojo in Gatineau with his training friend Guy Charron, supported by Michel Provost.
1982: Received 2nd Dan from M. Harry Villeneuve in Chito-Ryu
1985: Received Sandan from M. Gilbert Kingsburry in Chito-Ryu
1989: Received 4th Dan from M. Fernand Cléroux in Chito-Ryu
1994: Received Honorary 5th Dan from the World Kobudo Fédération grading committee
Since in Shito-Ryu
1999: Received 4th Dan from Soke Mabuni, Shito-Ryu in Japon Appointed Technical Director at Shinwa-Kai Québec
2004: Received 5th Dan from Soke Kenei Mabuni
2010: Rokudan title, 6th degree in Shito-Ryu from Soke Kenei Mabuni
2011: Co-founded Shitoryu Karate Canada & Technical Director of Shitoryu Karate Quebec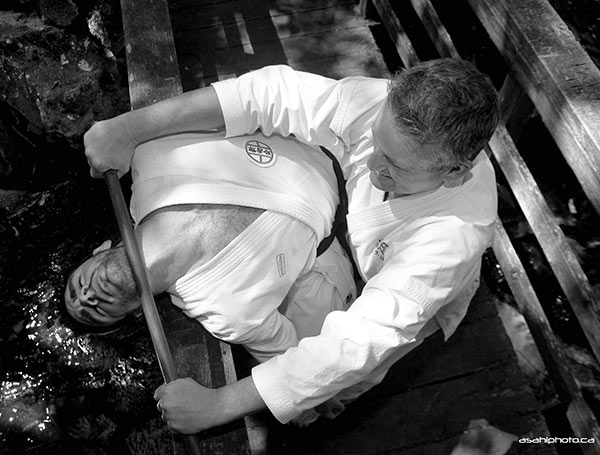 As maintaining his competence perfectly, Shihan Larouche participated in technical training sessions and symposiums in martial arts as followed:
Karate :
Soke Ken-ei Mabuni (Osaka, Japan, Shito-Ryu)
Soshihan Tadaharu Shintani (Osaka, Japan, Shito-Ryu)
Kyoshi Shoko Sato 8th Dan (Venezuela, Shito-Ryu, Shito-Kai)
Shihan Antonius Lo (Toronto, Canada, Shito-Ryu)
Shihan Nakahashi (Paris, France, Technical Director, Shito-Ryu Europe)
Shihan Murayama (Mexico Shito-Ryu)
Kyoshi Allen Tanzadeh (Founder and Technical Director of Shitoryu Karate Canada (SKC), Member of Standing Directors of WSKF, Technical Advisore of  APSKF, Member of Dan Examiner Panel of  Karate Canada and Secretary General of PSKF)
Kyoshi Beau Miu (Okinawa-Goju)
Sensei Oliva Seiba (Kumite, Spain)
Sensei Bozo (Kata Shito Ryu, Spain)
Sensei Javier Mantilla (Venezuella,Shito-Ryu)
Sensei Fujii (Osaka, Japan, Shito-Ryu)
Sensei Yves Lavigne (Bunkai Shito Ryu, UFC Referee)
Yamamoto (Japan, Chito-Ryu)
Kyoshi Marc Asselin (Quebec, Canada, Yoseikan)
Sensei Bill Zoaopulos (Okinawa-Tai Karate-Do, Athens, Greece)
Ron Yamanaka (Toronto, Canada, Goju-Ryu)
Georges Sylvain Rondateur du Can-Ryu Jujitsu (Ottawa, Canada)
Kyoshi Cesar Browkoski (Toronto, Canada, Shotokan)
Sensei James Charlet (Charlesville-Mezières, France, Shotokan)
Jujiitsu :
Shihan Robert Panneton (Monteal, self-defence )
Kyoshi John Thérien (Vanier, Canada, Jujitsu)
Hanshi Richard Morris (London, England, Jujitsu)
Shihan Alain Sally (Charlesville-Mezières, France, Gussundo)
Yoga :
Mme Yoshie Furumoto (Yoga Instructor, Larouche Karate Dojo)
Other Martial Arts :
M. Daniel Richer (Montreal, Canada, Taekwondo)
Jean-Yves Thériault (Vanier, Canada, Kick-Boxing)
M. Bill Adam (Buffalo, N.Y., Tai-Chi)
M. Kevin Block (Canada, Aikido)
Physical Conditioning :
M. Carol Alain (Professional Sports Phys Ed Specialist)
Gérard Lauzière (Professional Sports Phys Ed Specialist)
National Coaching Certification Program:
NCCP (National Coaching Certification Program) Theory Level 3
NCCP (National Coaching Certification Program) Technical levels 1 et 2